Beliefs express themselves in all aspects of a person's life. I'll use this page to describe how my own convictions have influenced my life and how they shape my daily activities.

For instance, I might describe how my belief system has inspired me to volunteer some time to a local homeless shelter. Or I might talk about how my relationship with my children has benefited from my beliefs.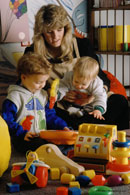 Here's a picture of me with my family.